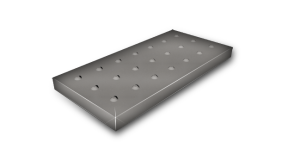 COMCON MB and MC
COMCON MB and MC slabs are polymer concrete slabs sized 145 x 295 x 20 mm, intended for permanent marking of safety stripes on the platforms of subways or railways which may not be entered except when the train is at station. The MBV and MCV slabs are provided with projections to caution also the blind.
Advantages
high compressive strength

high tensile strength and tensile strength in flexure

high impact strength

high abrasion resistance

permanent resistance to freezing and thawing

permanent resistance to de-icing salts and other de-icing agents

permanent resistance to acid rains

permanent resistance to petroleum products

absolute impermeability and negligible absorptivity

easy installation (similar to that of conventional pavements)

long service life comparable with that of the highest quality eruptive rocks

extreme resistance to climatic factors incl. UV radiaton

brilliant white colour resistant to soiling and easily cleaned
Application
formation of warning slabs permanent safety stripes on subway and railway station platforms both for the seeing and the blind.
COMCON MB, MC, MBV and MCV, dimensions 145 x 295 mm, are 20 mm thick. The surface of MBV and MCV slabs is provided with a grid of truncated cone projections to be identifiable also by the blind and to caution them about the forbidden zone near the rails.
The warning slabs are produced in regularly alternating contrasting colours – black and brilliant white. The black slabs are always provided with projections to caution the blind, the white slabs are produced either plain or with projections according to the designer´s selection. The white slabs are provided, moreover, with a special silicon paint coat sealing all surface micropores on the one hand and preventing soiling (and consequent contrast reduction with black slabs) on the other hand to facilitate their easy and perfect cleaning by standard washing mechanisms.
The slabs are placed in a cement or special adhesive mortar bed some 10 mm thick spread on top of a stiff base course analogously with stone or ceramic paving tiles.
The surface of both plain and moulded slabs is not slippery in standard conditions. The colour, achieved by the mixing of inorganic pigments with the mass, is fast (even in exterior conditions), dispensing with any maintenance or periodic repainting throughout their whole service life.